5 Tips for a Simple & Beautiful Home Page for your Virtual Yoga Studio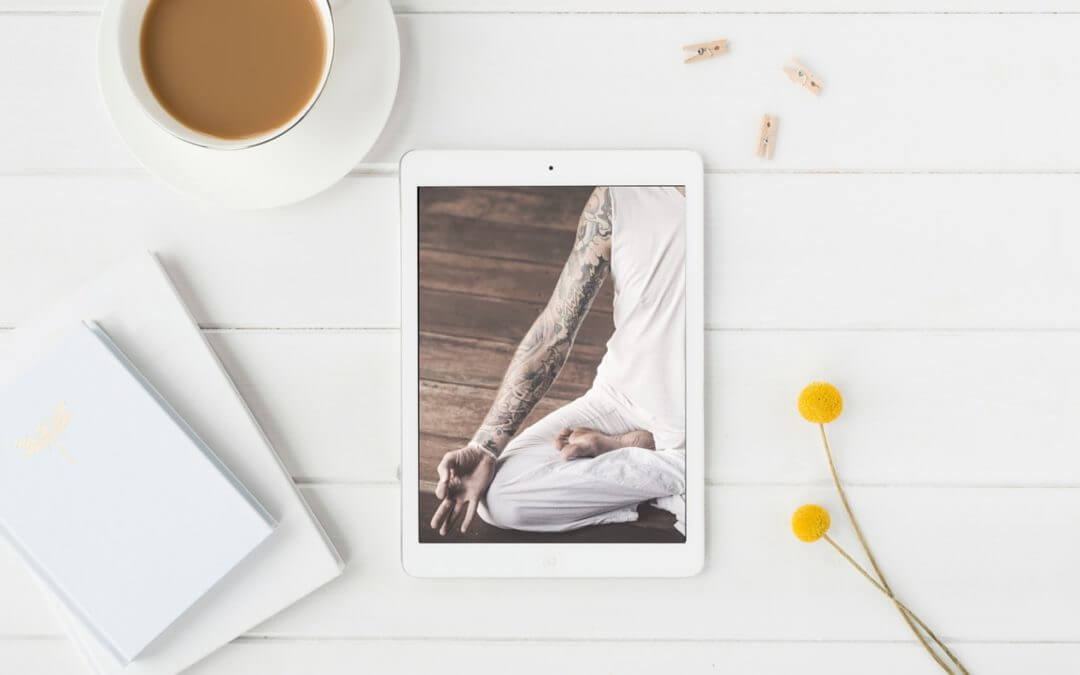 As yoga teachers, creating a website or hiring a designer can seem like a huge, daunting task (not to mention an expensive one).
As a full time designer (and part time yoga teacher), I love helping fellow instructors create a consistent brand that's simple and something that they can love and grow with as they develop their skills and refine their yoga teacher voice. Your website should reflect this just the same!
The home page (also known as the "landing page") of any website is the most important part of user experience and engagement - particularly for teachers with online yoga classes or a virtual studio. It provides a very simple purpose: to let users know who you are, what you do and how you can help them.
The home page is the very first thing people will see when they visit your site and unfortunately a very large percentage of them will leave after just a quick peek around (called the 'bounce rate' in web-y terms). The objective here is of course to keep your visitors engaged and have them stay long enough to dive into your content, videos or offerings.
If you're thinking about getting a website online, or perhaps refining the one you already have, here are 5 tips & tricks to help get you started on a simple and effective home page for your yoga website.
1. PLAN IT OUT
Figure out exactly what you want to include and highlight it on the landing page of your website. Since it's the first (and maybe only) page that users will see, you want to lay it out in a way that makes it easy for them to find information or search for what they're looking for. Think of a call to action and make it a priority, whether that be to have users contact you, subscribe to an email list, connect with you on social media or purchase a membership to your online classes. Make sure this priority is somewhere close to the top of the page.
If someone stumbled upon your website and only stuck around long enough to see the home page without even scrolling down very far, would they be able to understand your brand and call to action clearly?
A few things you might want to consider including up front and center:
A small (2-3 sentence) bio explaining who you are

A sample video or teaser clip of your classes

A free trial opt-in for your virtual studio

Ways a user can find out more or get in touch (social media buttons, email, links to other pages on your website...etc.)

Subscribe section if you have an email list/newsletter
2. USE REALLY BEAUTIFUL IMAGERY
I know we don't all have the budget to go out and hire a photographer, but if you do, I highly suggest it. If you have a friend with a decent camera, ask them for some help. I know we all love our smartphones because they're convenient, and yes you can take gorgeous pictures with an iPhone, but that doesn't mean you should use them for your website imagery. Spend some extra time, money and love on your images, because it's what captivates a user during a first impression.
Need some free stock images that aren't unbelievably cheesy? Check out www.pexels.com. Be mindful that because they're free, some of them are used all over the place. You may even recognize a few, but if you find some that are generic enough or that will be placed behind text, they may be just what you need!
3. KEEP IT SIMPLE
I know we want to tell everyone our whole story from start to finish and every detail in between. Trust me, I'm the same! But it's important to pick out the details that matter most and keep your text concise and to the point. Short and sweet is the best approach. Unfortunately people don't love reading through paragraphs of text to find what they need. Except maybe your mom or grandmother. My mom reads every word of everything I post. Thanks mom!
This same concept goes for your imagery and your colors. Keep consistency and choose images that have the same style and feel. Don't overcrowd your home page with images or icons, but do include them in things like the header of the page and perhaps with a biography section.
If you have icons to use (check out www.thenounproject.com for some free and paid options) place them only where it matters, like with your offerings blurb or perhaps your newsletter section.
Choose a couple of consistent colors to use throughout your website. If you use business cards, or have a logo, keep your website consistent with the appearance and tone of those. Try to choose one color for headings and titles and one color for buttons, icons or emphasis.
4. USE CONSISTENT FONTS
And stick to 2. It sort of drives me mad when I land on a website that has 4+ fonts all competing for attention. It's a hard job to choose 3 fonts that look really good together, so if you're going at this on your own, stick to one font for headings and titles and one font for the body copy. If you're super adventurous and trust your creative eye, you can experiment with a third for emphasis or callouts, but it's not necessary.
The best place to browse fonts? Google fonts (www.google.com/fonts)! They're the most common fonts on the web, free to download and you can ensure that most computers will render them when people end up on your website.
5. MAKE IT EASY
Don't make your user go on a wild goose hunt to find your sign up button, email address or phone number. And don't leave them guessing at what you offer. Make it easy for someone to land on your home page, find out who you are, what you do and how they can follow up with you. Want them to follow you on social media? Make it a simple process and include social media icons linked to your profile. Want someone to email you or follow up? Create a button they can press to open their email, or better yet, include an online form (with something like www.typeform.com)
BONUS TIPS FOR AN EFFECTIVE HOME PAGE.
It's super important to start thinking about how to make your home page more effective. A good layout could mean a user stumbles upon your site, stays for a little while, pokes around and maybe even engages with you by following you on social media or signs up for your email list. If a home page is cluttered, unclear and visually unappealing, a user is likely less inclined to stick around, and are probably even less likely to want to get in touch.
The most important part is to keep things simple and clear. Be intentional and have good reasoning for every choice you make with your website.
Danielle Joseph is the founder, owner, and designer behind Function Creative Co. You can follow her on Instagram.
If you found this post helpful, check out our free on-demand masterclass: Become an Online Teacher.
BECAUSE THE WORLD NEEDS WHAT YOU TEACH.